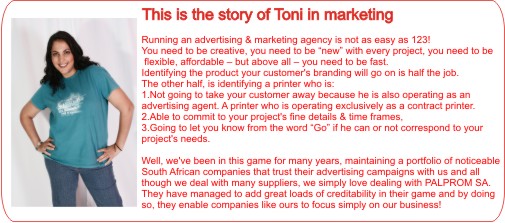 You probably use at least one item every day without realizing it. Writing instruments, such as pens and pen sets are among the most popular items for branding. A branded (pad, screen or digital printed) pen is an extremely affordable way to advertise your company and establish credibility within your community.
Business executives in the USA bought over 7 billion dollars worth of promotional products in 2010. In South Africa, the situation is similar but in smaller volumes.
Each one of these purchases was a subtle method of effective advertising.
Each custom branded promotional item brings your company one step closer to securing more customers and more sales, helping you achieving more revenue.
Stationary items are a strong, influential method of corporate advertising & branding.
As a business tool, promotional items / gifts are a versatile way to modify behavior, motivate people, and generate goodwill.
Such items can be distributed at press releases, employee gatherings, supplier meetings, customer greetings, and to the general community.
When integrated into marketing strategies, promotional items can enhance advertising, direct mail campaigns, events, and the successful efforts of your sales force.
Promotional items help you to remain in the forefront of customer's minds long after your official campaign is over.
If you take the price of a commonly used promotional product and divide that by the number of times someone notices the branded logo or message, you will see the amazing cost-effective financial translation of these promotional item's investment.
Promotional Imprinted Items can be used to:
• Create company awareness
• Entice prospective clients to visit your trade show booth
• Create excitement or an element of fun for a new product or service launch
• Provide incentives for dealers or customers to purchase larger product quantities
• Give away as Souvenirs
• Capture the media's attention
• Thank customers, suppliers, or employees
• Boost short-term sales
• Reinforce key messages and benefits
PALPROM SA is ready to apply the branding you desire on the promotional items you might have purchased already. We do not supply promotional products ourselves because we brand for many importers & brand houses that deal with this part of the process already.